Shaping Content, Fostering Community: A New Chapter on YouTube
Filling the Void: The Start of Our YouTube Journey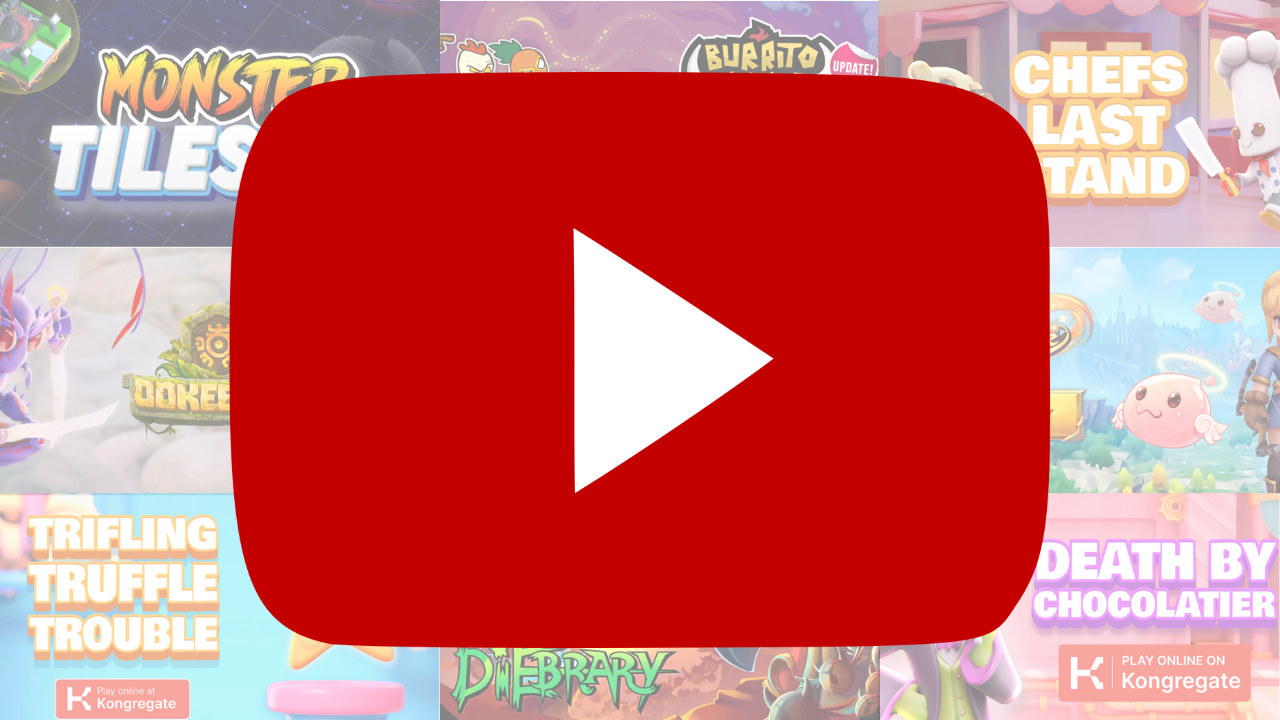 When we began our efforts early this year, our YouTube channel hadn't been updated in years. Where once was a thriving community of gamers and promotional vids, now the channel was collecting dust. It was clear that we needed to expand our efforts there. Our focus became about engaging our audience and throwing everything at the wall to see what stuck.
Our initial livestreams focused on the beta testing of a new online community storytelling game called Blood Vessels, where mutated vampires roamed the dark alleys of 19th century America. We made some really great content with this project, including some amazing animated live-play videos.
From there, we expanded to our own weekly livestream, where our fantastic community teams could interact with each other and chat, all while playing the latest hot game on Kongregate.com. Since then, we've hosted people from all across the company, from Game Designers to Artists; even the C-level leaders stopped by to say hi. 🙂
We also started creating short gameplay videos of our newest games as a way to promote and support the indie game scene, with trailers of top games we think you'll like. Some of these became spotlight videos - longer form vids to showcase some of our favorite games, giving them a personal touch with a voiceover and some thoughts on tactical gameplay.
There are also the Badge of the Day videos, which let us support players in their journey to earn their highly coveted Kongpanion each week. These entertaining and informative tutorials offer invaluable insights, making the badge-earning process enjoyable and rewarding.
Recognizing the impact of YouTube Shorts on discoverability, we integrated them into our strategy. By repurposing content from various sources, we were able to use each piece of content to its fullest, driving engagement and impressions across the channel.
An Analytical Observation: Quality over Quantity
As we experimented with multiple videos each week, we noticed a decline in views over time. However, YouTube Shorts continued to flourish due to the algorithm's support and increased discoverability. This realization led us to reassess our approach. The content was good, but the cadence was off.
By looking at how our engagement metrics affected the clickthru rate, the average duration watched for each video, and our reach, we could assess that we needed to make some strategic changes to our approach.
With the data in hand, we've decided to pivot our YouTube strategy. Our focus now shifts towards producing fewer but higher-quality videos. We aim to captivate our audience with well-crafted content that sparks interest, fosters community interaction, and showcases the best of Kongregate.
New Content
As we venture into this new phase, we'll inform you about the latest Kongregate games and updates through carefully curated and engaging content. Expect to see captivating gameplay videos that not only entertain but also empower our players, the continuation of our Badge of the Day series and livestreams, and lots of fun Shorts!
As we focus on quality and engagement, we invite you to join us on this exciting adventure. Together, we'll continue to thrive and build a vibrant community.