New Look, New Fun, New Homepage!
We're thrilled to unveil our brand-new homepage on Kongregate.com, representing a big leap toward making your online experience easier and better than ever. Your online activities should be smooth, intuitive, and most importantly, fun. With that in mind, we've put a lot of thought and effort into creating a homepage that changes how you navigate and browse our platform.
Responsive Design
Today, we can confidently say that our homepage smoothly adjusts for the first time to fit all screen sizes and various devices. Whether you're browsing from your desktop computer, a convenient tablet, or the convenience of your smartphone, you can expect a flawless user experience where nothing gets cut off, and game grids proudly showcase our games, making them more accessible than ever before.
Streamlined Navigation
The main navigation has transformed, featuring a streamlined single-row design with a larger, cohesive font size as it travels with you down the page! Additionally, related functionality has been grouped to live in a drop-down for your profile and finally featuring Kreds!! Also, take a moment to appreciate our handsome new footer with quick links to helpful resources.
Game Discovery
At the top of the grid, you'll notice a new top row showcasing fresh games meticulously selected for discovering the newest and most outstanding titles tailored to you. As well as incorporated tags to facilitate quick and effortless exploration of new games within our most compelling and top-rated categories.
Improved Search Functionality
Search has moved out of the navigation bar and onto the page, making search more accessible and user-friendly. The recommendation list dynamically adapts as users type their query, providing convenience and efficiency with relevant real-time suggestions, saving time and effort and ultimately resulting in an improved search experience.
Unified Game Card
Last but certainly not least, we're excited to present the result of our hard work and dedication: our brand-new, unified game card that brings together all the information you are familiar with and love. This card makes a great first impression with just the cover image and title but ensures easy access to essential details when you hover over it. You'll find links to developers, tags, ratings, auto-rotating visuals showcasing key moments from each game, and more!
What's Next?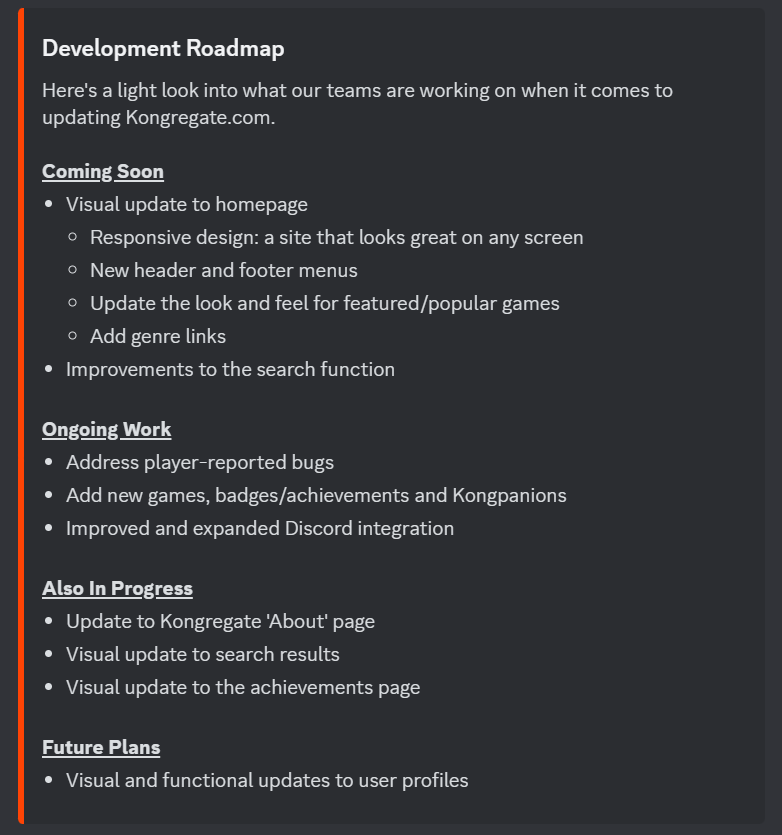 We've achieved substantial milestones, yet our journey continues. We welcome your valuable feedback on our revamped homepage–what elements you find praiseworthy and what you believe we could enhance further.

If you're interested in receiving developer emails, sign up for our newsletter here!